include "../header.php" ?>
NEAT 2002 Report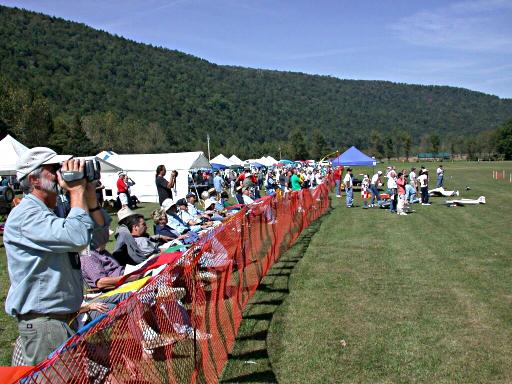 A report on the 2002
Northeast Electric Aircraft Technology Fair
presented by SEFLI (Silent Electric Flyers of Long Island)
Tom Hunt/Bob Aberle CD's
---
Set-up Day
The 2002 NEAT Fair started glorious on Thursday the 12th. I arrived about 1pm and there were many modelers already on the field helping Bob Aberle (who arrived a couple of hours earlier) put the finishing touches on the fencing and caution tape. The weather was great; low winds, bright skies and warm temperatures. By 4pm that afternoon so many pilots arrived early the front line of nearly 100 pit areas was full! We set up the "casual" frequency board and guys and gals began flying shortly after they staked their claim to a pit spot.
The headquarters, vendor and club tents arrived late in the afternoon. We had the HQ tent set-up quickly after that. Most of the 31 registered Vendors arrived on Thursday.
Friday - Day 1
We awoke to a clear and cool Friday. Morning fog present last year actually moved in AFTER sunrise for a short time, but quickly burned off to a great day. Registration opened at 9AM but that did not stop many early birds from flying on the "casual board" until about 10AM. With enough SEFLI crew now on the field, the impound was opened at 10AM and the casual board brought in. 10 flight stations (down 2 from last year) were available to pilots. 7 were right in front of the HQ tent for "heavy iron" models. 3 flight stations positioned well down on the right side of the flight line were reserved for slow-park flyers. This arrangement, though still not "perfect' seemed to reduce the number of mid-airs and near misses, as only 3 mid-airs were observed all weekend. There were more than that on the first day at the 2001 fair! Henry Pasquett gave a lecture in the Bergen County Silent Flyers tent on micro sized R/C models on both Friday and Saturday. They were so well attended, many were standing well outside the tent to see Henry talk about the current state of the technology in "living room" R/C flight.
The field was closed at 12 noon to begin presentations of the lunchtime demos. Notable pilots such as Keith Shaw, Dave Grife, Dave Baron, Gary Wright, Chris True, Mike Hines, Dieter Mahlein, Steve Neu, Steve Rojecki, Joe Beshar, Nick Ziroli, Kyle Mashima, John Marien, Bob Kopski, Don Belfort, and Allen Mrock flew very impressive models either Friday or Saturday at noon. Pilot raffle prizes were awarded at about one per hour throughout the day on Friday. At 4 PM A three pack of Modelair-Tech stick kits with motors/props were raffled off in the "paid for" general raffle.
The impound was closed at 5 PM and the casual board set back up on the flightline. Though many of us went to the Friday Night Kick-off dinner, I am told that flying went on well into the night.
The Kick-off dinner was attended by 160+ pilots and family members at the Rockland House about 1/2 drive into Roscoe. A buffet style dinner was served that was absolutely spectacular. We plan on doing it again next year. Keep and eye on the links to the dinner reservation forms that should be available around may of 2003. Don't procrastinate.... I'm sure it will be a sell-out next year!
After dinner, John Worth (past AMA president) asked me if I could give him the floor for a minute or two to present an award. Surely I could not turn him down, regardless of the reason! He began by saying that he was presenting an award to a person who needed no introduction. He also mentioned that this person was to be inducted into the Vintage R/C Hall of Fame (only a little over 2 dozen inductees since it's inception in the mid 1970's). He mentioned that the recipient would now be in good company with famous modelers such as Walt Good, Maynard Hill and Bob Aberle, for their contributions to the sport of R/C model aviation. John began to read a short biography of the recipient. By the time he got to the second paragraph I knew he was talking about me! I froze.... could not believe I was to be so honored. In fact, I was told that I am the youngest ever to be inducted in to the R/C Hall of Fame!
The dinner broke up about 10:30PM after a couple of raffle prizes were given away. I am told some dinner goers went back to the field to do more night flying!
Saturday - Day 2
A calm, cool, but foggy Saturday morning greeted us. That did not stop the slow-park flyers from enjoying the low ceiling for the first few hours. The fog eventually burned off and the air warmed nicely. The impound opened at 9AM. The winds stayed light most of the day, but a few "micro bursts" came though the valley now and again upsetting some tents and canopies. These were violent enough to take one "bubble" tent and toss it into the trees some 200 ft from where it was staked! Loose wings were also seen to take to the air and land a 100 ft or more from the non-flying fuselage! It was incredible to see how calm it could get only moments after these "disturbances" came through. Lunch time demos were again flown until about 1:15. At that time, another important award was to be given out. In front of close to 300 pilots and hundreds of spectators, Dr Keith Shaw received his plague signifying his induction into the AMA Hall of Fame. This was no surprise to Keith as it was to me though. He knew it was coming! No less impressive though, Keith well deserves the recognition for all he has done for modeling in his career.
At 4PM on Friday, The John Sermos Memorial Fund Prizes were raffled off or awarded. John Sermos (Sermos R/C Snap Connectors) left us earlier in 2002. John had acquired quite a bit of "hobby" stuff over the years, and Jean, his widow had asked me to dispose of the models and equipment. Rather than give away "old" stuff, SEFLI decided to sell the items and turn the cash into a few "new" complete model systems. The Fund acquired enough cash to purchase (with the help of deep discounts from Hobby Lobby) two complete electric models. A Hobby-Lobby "Dynamic" sport hot-liner, complete with radio, brushless motor/esc, Astro 110D charger and two battery packs was awarded to the "most impressive" junior modeler flying at the 2002 show. This package and a commemorative plaque was awarded to Rich Baron of Ct (John's home state!). The second package, a RTF Graupner Terry with Astro 110D charger was raffled off to any junior AMA member who signed up. That model was won by James Waldo. Hank Nielsen (WRAM's club) who also acquired some of John's hobby items offered a kit and covering material to "runners" up. All the winners were quite excited. Dieter Mahlein of Shredair, also provided a "runner up" prize of an all molded speed 400 pylon racer. This was awarded to Philip Beach of NJ for his great flying of a slow flyer model in quite stiff breezes.
Finally, a general raffle which anyone could enter by purchasing tickets, was drawn late on Saturday. This model consisted of a Hobby Lobby Telemaster 70 ARF which John never had flown. The model was "upgraded" to be powered by an Aveox 1412-2y/Planeta motor/gearbox, a Jeti Brushless ESC and a 14 cell 2400mah battery pack.
The impound was closed again at 5 PM on Saturday and the casual board set-up. At 8PM, modelers interested in competing in the first ever NEAT Fair Slow flyer contest gathered at the HQ tent. 11 modelers entered the event which comprised of navigating their slow-flyers around a timed course. The night started with calm winds, but by the last few flights of the first round, the winds began to rise. Wind speeds were well above those one would normally fly a slow flyer in the daylight, never mind at night! Stumbles and crashes were aplenty! At the conclusion of the first round, it was decided to let those who wanted to attempt a second to improve their score to do so. It did not take more than a couple of flights to convince the others not to fly! Joe Malinchak (PA) won first prize, John Tracy (CT) won second, and SEFLI's own Mike Glass placed third. First and second prizes were "ARF" models donated by Hobby Lobby and Northeast Sailplane. Third place prize was a Modelair-tech Slowmowatt kit and motor package.
Sunday - Day 3
Sunday I awoke at 6AM to light rain. By the time I got down to the HQ tent (about 7AM), it had stopped, but it looked like it could return at anytime. Many modelers had packed up the night before and some were seen leaving even at this early hour. The forecast was not good. Rain could be heavy at times anytime during the day. We managed to get through to 12 noon without getting wet, but the rains came just after we raffled off the last prize of Modelair-tech stick kits. We were just about to start the lunchtime demos when the sky unloaded. The rain finally let up enough around 1:30PM so that the SEFLI and Connecticut Silent Flyers could begin breaking down the field. With many hands, it went quickly and by 3PM we had the field cleaned-up. Modelers still wanting to fly could do so on the casual board until I left shortly after 3PM. Although there were still a few modelers flying when I left, I suspect it would not have lasted long, as I ran into heavy showers just a few miles from the fair grounds.
Conclusion
Despite the rain shortened Sunday, the 2002 NEAT Fair was a great success. Almost 300 pilots, 1200 spectators, and 31 vendors descended into Peaceful Valley for a great weekend of flyin', buyin', and yakin'. Very many impressive models performed aerial ballet, extreme speed and incredibly small size. Electric model technology was come of age and shows no intention of stopping to "push the envelop". Please make an attempt to attend next years show, you should not be disappointed. Dates for the 2003 show will be Sept 12,13,14th.
Until next year,
Best regards,
good flying,
quietly,
Tom Hunt
Below is a list of those who helped make this year's NEAT Fair a success:
SEFLI/Grumman Wingnutz members supporting the show:
Bob Aberle (Assistant Event Director)
Don Abramson
Lionel Bernstein
Frank Bock
Bob Bohrer (SEFLI treasurer, and NEAT fair bookeeper)
Gil/Ann Carpenter
Bob/Andra Erbe
Nick Dannenhoffer (SEFLI Secretary)
Frank Dellamura (SEFLI newsletter editor)
Mario DiDiego (pilots raffle prize collector)
Frank Fontana
Wayne Guschow?
Clyde Geist (SEFLI VP)
Mike/Ian Glass
Larry/JoAnn Haralambou
Tom Hunt (Event Director/Grumman Wingnutz Pres)
Eileen Hunt (tremendous supporter of above event director)
Harvey Knopf
Steve Kowalski
Ron Paragoris
Henry Prew (SEFLI Pres)
Jim/Mary Reid
Tom/Tommy Reilly
Russ Riccardi
Roy/Barbara Thompson
Alan Wander
Ron Williams
Connecticut Silent Flyers:
Ned Bassick
Rich DeAngeles
Fred Schnieder
Bill Wargo
Dave Jackson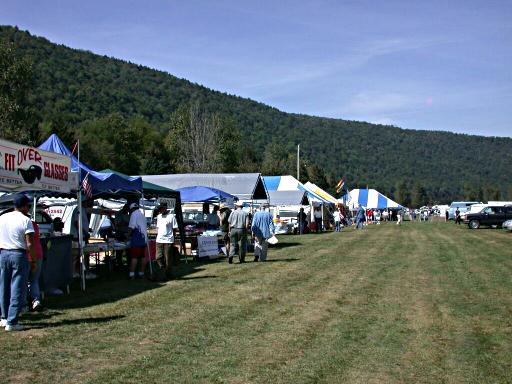 include "../footer.htm" ?>